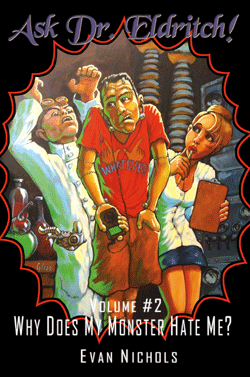 Are you ready for more uncommon-sense advice from the world's foremost ex-vampire-killer turned advice columnist? This second collection of letters from "Ask Dr. Eldritch" addresses the problems of troubled monsters, unhappy spies, dissatisfied psychics, disappointed mad scientists and more! Contains even more Quick Tips, Follow-Up letters, and the legendary VALENTINE'S DAY COUPLES QUIZ. You'll never know when (or IF) you'll need the advice in this book until it's too late, so order your copy today!

Paperback. 130 pages. $14.95/book

Just email

,
As Always, Thanks For Encouraging My Behavior!
Check out "Ask Dr. Eldritch Volume #1 Are Aliens Eating My Crackers?" here!